Are you planning to buy new Downtown Toronto luxury condos that are currently in the pre-construction stages? There are many benefits to buying a brand new home in a newly-built complex. Not only do you get the satisfaction of living in a home that has new appliances, flooring, countertops, and windows, but you can also customize your home to your liking. However, to ensure you don't have any unwanted surprises after you move in, make sure you consider these details.
Find Out Information on the Builder

Before you make a final decision on which of the Downtown Toronto luxury condos being built is right for you, do a little research on the builder. You can look on the Ontario Builder Directory to ensure the company is licensed and learn more about its history and specialties. Go further by checking out the builder's website, social media pages, and online reviews. Talk with your Downtown Toronto real estate agent about which builder he or she has worked with in the past and the pros and cons of each. Choosing the right builder is an integral key to your success when it comes to purchasing a pre-construction home.
Make Sure You Fully Understand the Purchase Agreement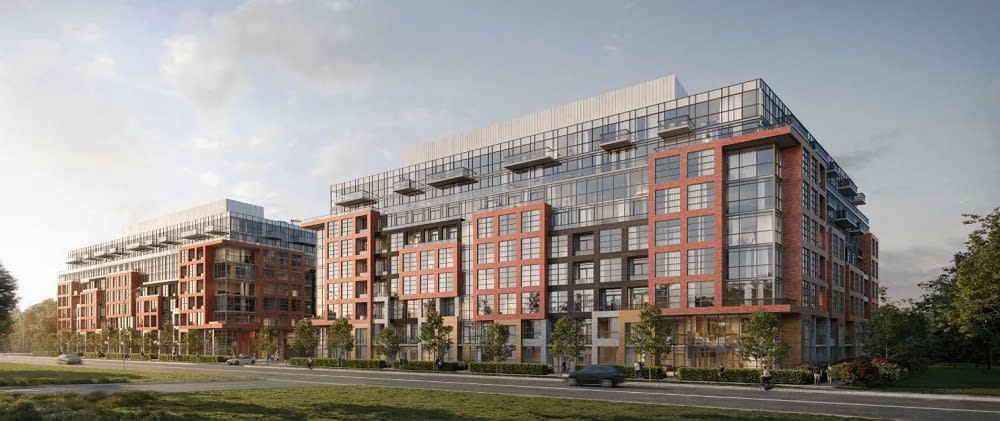 Once you sign the purchase agreement for pre-construction Downtown Toronto luxury condos, you are in a legal, binding contract. The contract will include details on closing fees and other costs, closing dates, possible delays, and other obligations for both you and the builder.

It's essential for you to thoroughly review the contract with both your real estate agent and your attorney before you sign anything to ensure everything is in order and you understand each part of it. If you or your attorney has questions, make sure the builder answers them to your satisfaction before you move forward.
Keep in Mind That Delays are Common

Though there are plenty of pros to buying pre-construction Downtown Toronto luxury condos, there are also cons—and delays are one of those. Though the builder will stipulate the project's completion date in the purchase agreement, it's very common for this date to be pushed due to unforeseen circumstances like a delay in building materials, a shortage of qualified workers, or governmental issues. This can be frustrating for buyers—especially if you've already sold your current home or terminated your current lease and have nowhere to live if a delay should occur.

To prevent frustration, be proactive and make some plans for where you will live if there is a delay and you can no longer stay in your current residence. Options include renting a home or condo short-term, reserving an extended stay hotel room, or signing a leaseback agreement with the buyer of your current home.
Go Over the Warranty Coverage

All new Downtown Toronto luxury condos have a warranty under the Ontario new home warranty and protection plan. Your pre-construction home will have a warranty that covers items like materials, workmanship, water penetration, and defects in the condo's systems and structures. These warranties are broken down into time periods of one year, two years, and seven years. Go over the warranty with your Downtown Toronto real estate agent and, if necessary, the builder or an attorney to make sure everything is in order and that you are aware of what is covered under which time frames.
Understand How Your Condo Will Differ From the Model

If you made the decision to buy one of the Downtown Toronto luxury condos being built based on a model, make sure you understand how yours will differ from this idealized version. Most model homes and condos are filled with upgrades to make them as appealing as possible. These upgrades are usually not included in the base price and, if you want them, could end up costing you tens of thousands of extra dollars. Before you sign on the dotted line, ask questions about exactly what materials and finishes come standard and which are upgrades and how much those upgrades cost if you want them in your new home.
Know What to Expect During the Pre-Delivery Inspection

With pre-construction Downtown Toronto luxury condos, you will have a chance to walk through the home after it is completed with the builder. During this inspection, you can ensure that nothing is missing, there is no damage, and that no part of your home has been left incomplete. During the inspection, make sure you check that all appliances are provided and working, that water is working, that all lights are operable, that doors close and seal on their own, and that all proper grouting has been done. You should also inspect all floors for damage or gaps, that windows open, close, and lock properly, that the HVAC system is operating properly, and that all shelves and rods have been installed in closets and bathrooms.
Know What's Coming in the Future

You've done your homework regarding the building where you live, but do you know what's slated to be built in the coming years? If other Downtown Toronto luxury condos or other structures are built nearby, how will this affect your views? The amount of green space you'll be able to enjoy? The noise levels and traffic? Your builder is not required to share these details with you (and may not even know them if developments are being built by a different company.) Though you won't be able to know everything will develop in the future, you can do research to find out what's currently on the agenda.

Ready to take the next steps and choose a pre-construction home? Work with a trusted downtown Toronto real estate agent like Valerie Gerardi for expert guidance and advice through the entire selection, buying, and building process.